Post by AstroMet on Sept 6, 2016 21:33:09 GMT
BETTER GET READY: IT IS COMING
AG/ FARMING & THE DANGEROUS WEATHER OF GLOBAL COOLING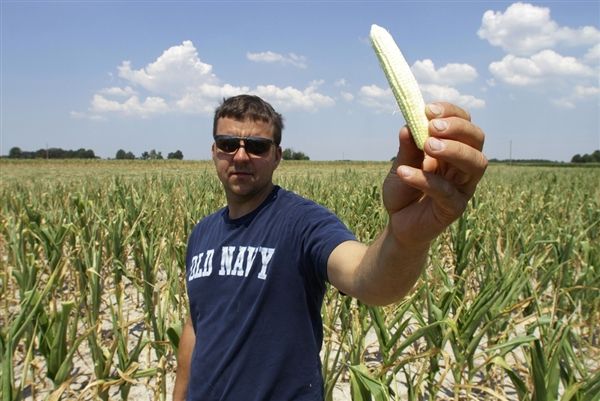 by Theodore White, astrometeorologist.Sci
The arrival of global cooling in 2017 will present farmers worldwide with challenges that they have never faced before.
At this time I am taking forecast orders for medium to long-range weather and climate for farms based on their location, varieties of crops and animal stock raised as the climate of global cooling sets into gear.
I can be reached at astro730@gmail.com
My forecast reports are specific for each farm and region as global cooling will have a wide and varied effect on all agriculture.
The forecasts will cover the climate and its weather from 2017 to 2025 – which will determine how successful farmers will be in adapting to what will be the most challenging weather faced by agriculture in many generations.
The delays because of all the attention given to 'man-made global warming has received much attention over the past 25 years, but evidence from the past clearly proves that sudden global cooling has occurred - and with severe failures of agriculture.
If you extrapolate from dendrochronological evidence, then I can say the following:
Approximately once per century there will be a drop of about 0.5 to 1 degree Celsius in mean temperature worldwide.
Therefore, once every 200 or 300 years a danger to agricultural production *will* happen.
About once per millennium there will be periods of 5–20 years where temperatures are seriously below normal.
I have forecasted the arrival of global cooling to come in solar year 2017. In this post, I advise farmers to prepare for the period of time from 2017 to 2025 - a eight (8)year period that will ultimately determine every farmer's ability to survive the next 36 years (2017-2053) of global cooling that I have forecasted.
Consider this,
A dangerous sudden cooling event will happen sooner or later. Ability to change to cold-resistant crops rapidly in large parts of the world may be necessary to avoid major famines.
That time is fast approaching and is nearly here, as I have been forecasting for well over a decade.
The evidence indicates what is next is planetary cooling, not warming. This is the natural cycle driven by the activity of the Sun.
The fact is that global cooling is far greater threat to agriculture. What farmers are about to experience will make global headlines - for many years to come.
Farmers *must* prepare as daylight wastes very much in this matter. Mother Nature, that's the weather, holds all the cards and what she says about the climate and weather goes for everyone - without exception.
Under the climate of global cooling, harvests can be delayed - even ruined - with crop yields substantially reduced.
Generally, farmers can expect delayed spring planting seasons due to colder and wetter-than-normal weather, along with increased cloudiness, irregular and cooler summers, plus earlier-than-normal frosts with poor soil quality - all because of the adverse weather.
I expect some regions where grains will remain green well into September and heat units, a term used to measure the temperature-dependent growth potential of specific crops, will be low - especially for corn. But even this impact pales in comparison with what will happen as we go deeper and deeper into the era of global cooling.
My warning for farmers is due to my knowledge as an astronomic forecaster of the climate and resulting weather conditions that will strike the northern hemisphere, especially North America. What you are about to witness and experience will be arctic conditions that will challenge everything you know about farming.
It is essential for farmers to learn about cold and wet-resistant crops and to make significant adjustments to their marketing plans as well due to the radical weather everyone is about to face. It begins next year, in 2017.
Global cooling, a mini 'ice age' is coming and if you are not prepared then you will suffer.
For instance, the last time the Earth faced global cooling, Western Europe experienced a general cooling of the climate between the years 1150 and 1460 and a very cold climate between 1560 and 1850 that brought dire consequences to populations.
The colder weather impacted agriculture, health, economics, social strife, emigration, and even art and literature. The increased glaciation and storms also had a devastating affect on those that lived near glaciers and the sea.
The impact on agriculture was substantial:
The growing seasons were altered by 15 to 20 percent between the warmest and coldest times of the millennium. That is enough to affect almost any type of food production - especially crops highly adapted during near full-season warm climatic periods like the one we've been in since 1980-81 (solar-forced global warming.)
That cycle, which produced record crop yields, is now ending, as I've been forecasting.
During the coldest times of the previous global cooling era, England's growing season was shortened by one to two months compared to present day values.
One of the worst famines in the seventeenth century occurred in France due to the failed harvest of 1693. Millions of people in France and surrounding countries were killed.
The effect of that global cooling period on Swiss farms was also severe. Due to the cooler climate, snow covered the ground deep into spring. A parasite, known as Fusarium nivale, which thrives under snow cover, devastated crops.
Additionally, due to the increased number of days of snow cover, the stocks of hay for the animals ran out so livestock were fed on straw and pine branches. Many cows had to be slaughtered.
In Norway, many farms located at higher latitudes were abandoned for better land in the valleys. By 1387, production and tax yields were between 12 percent and 70 percent of what they had been around 1300.
In the 1460's it was recognized that this change was permanent. As late as the year 1665, the total Norwegian grain harvest is reported to have been only 67 - 70 percent of what it had been about the year 1300.
The cooler climate during the that global cooling era had a huge impact on the health of Europeans - dearth and famine killed millions of people and poor nutrition decreased the stature of the Vikings in Greenland and Iceland.
Cool, wet summers also led to outbreaks of an illness called St. Anthony's Fire. Whole villages would suffer convulsions, hallucinations, gangrenous rotting of the extremities - even death.
Grain, if stored in cool, damp conditions, can develop a fungus known as ergot blight and also may ferment just enough to produce a drug similar to LSD. In fact, some historians claim that the Salem, Massachusetts witch hysteria was the result of ergot blight.
Malnutrition led to a weakened immunity to a variety of illnesses.
In England, malnutrition aggravated an influenza epidemic of 1557-8 in which whole families died. In fact, during most of the 1550's deaths outnumbered births. The Black Death (Bubonic Plague) was hastened by malnutrition all over Europe.
Back in 1815-1816, toward the end of that Little Ice Age, the Tambora volcanic eruption in Indonesia resulted in a worldwide temperature drop of 1.5 degrees Celsius. It caused massive crop failures in what became known as "the year without a summer."
Snow fell in Albany, N.Y., on June 6, 1816, and there were hard frosts every month of that summer throughout New England that year.
History also shows that the Northern Hemisphere is far better off with warming than global cooling.
Cooling dramatically reduces plant and animal ranges, so agriculture benefits with longer frost-free seasons and more heat units.
But, the AG industry and farmers have been tricked by 'climate change' proponents into believing something that does not exist – and that is man-made global warming.
Billions of dollars have been diverted away from preparing for global cooling and serious environment concerns like air, land and water pollution to something that is literally impossible, and that is anthropogenic global warming.
The US Government has known for a long time that runaway global warming is simply not possible. Most people do not know that a 1941 Department of Agriculture climate report covered it.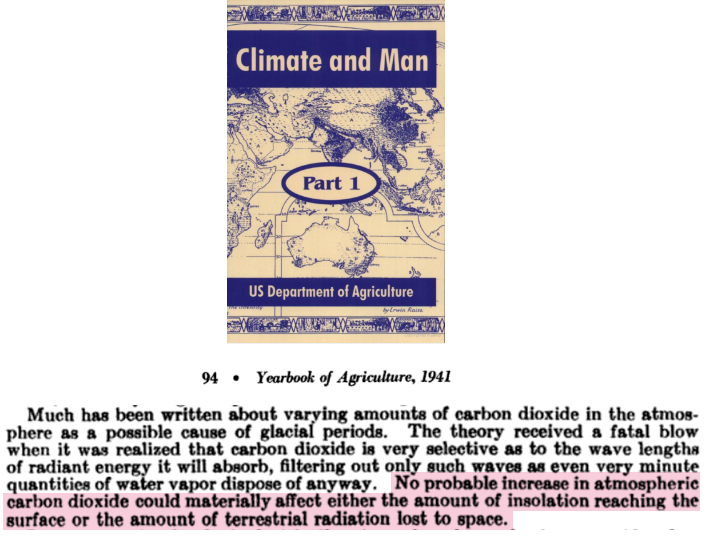 Back in 1941, it was known, quote, that "no probable increase in atmospheric carbon dioxide could materially affect either the amount of insolation reaching the surface, or the amount of terrestrial radiation lost to space."
And thirty years later, NASA's two top climatologists reported that runaway greenhouse effect is not possible.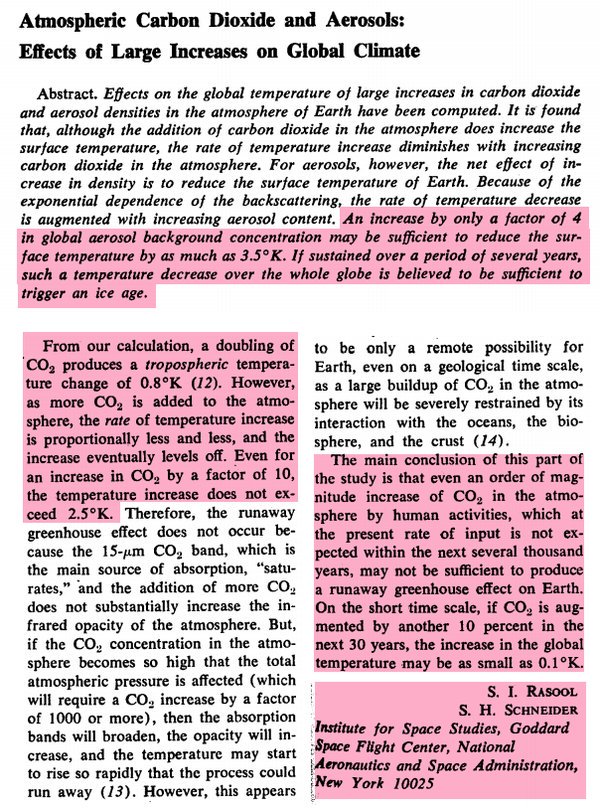 I continue to state that there is no such thing as 'man-made global warming,' that is, 'anthropogenic global warming (AGW) - it does not exist and cannot exist because of the laws of thermodynamics and physics say that it cannot exist.
It is literally impossible for the Earth to ever become a classic greenhouse because of human-based carbon dioxide emissions.
But, rather than to forecast they have mandated carbon dioxide restrictions to "fight climate change," – which has been a farce from start to finish.
It is the activity and condition of the Sun's variability that is the cause of all climate change and its variability is modulated by the planets in our solar system.
The Sun's variability corresponds to previous warm periods in our present interglacial era. It also accounts for the existence of colder periods like the 'Little Ice Age,' (1350-1850) when solar activity was very low.
These swings of climate change matter because they have taken place regularly over the last few thousand years.
Now, after 150 years of recent warming, the Earth is facing at least three straight decades of significant cooling.
I have repeatedly warned farmers to prepare because global cooling is coming to a neighborhood near you - and you, your family, your crops and your livestock will be seriously affected if you do not prepare and that time is now.
I have been forecasting for over a decade that we have been poised to see solar activity fall off dramatically and that means real trouble farmers, for agriculture and for the world's Ag output.
Consider this,
During the colder years of the "Little Ice Age," extended winters, wet and cold spring seasons and cooler summers decimated grain crops that led to widespread famine and death.
Millions of people died of starvation during the Little Ice Age - particularly between 1690 to 1700, and again, during the famines of 1725 and 1816.
Finally, as 2017 nears, more scientists are finally coming around to seeing things my way after I consistently forecast over the years that global cooling was on the horizon with the Sun's new solar cycle #25 beginning its quiescent phase, or Grand Minima.
It is my forecast that solar cycles #25, #26 and #27 will see the Earth undergoing a significant decline in temperature with horrendous weather conditions that will seriously harm farmers worldwide who are not prepared.
For instance, one of those scientists, Professor Valentina Zharkova has confirmed my astrometeorological forecast that the coming decline in solar activity could indeed extend for a straight 30 years. More scientists are now seeing what I have been saying for a long time - and that is the advent of global cooling due to the Sun's quiescent phase.
For many, the question will be how will it impact a world that has grown accustomed to buying packaged food at the supermarkets?
Mass agriculture in North America is going to be hard pressed to compensate reduced crop yields and I am more than certain that small subsistence farming in the Third World will see a perilous decline – leading to disease and death for millions.
Agriculture has to prepare – and farmers are going to be front and center in facing the irregular seasons, colder and wetter weather along with increased extreme cloudiness that comes with the climate of global cooling.
It is essential for farmers to know that the next solar year around the corner - 2017 - will see the start of significant changes in your weather and climate conditions for your crops.
Everything, from insurance, crop yields, to your livestock will be impacted by the new climate regime of global cooling.
My forecasts are detailed for the location and region of your farm. If you want a forecast, it will include the changes in the weather in your region, on your soil and types of crops for the season forecasted. I can do 2-year, 5-year, and 7-year forecasts which are written in report form for each season of every solar year.
Email me at astro730@gmail.com. Please include the name of your farm, it's location, total acreage, the crops you tend to grow, and if you have any livestock.
If there are buildings on your farm, make mention of how many and the age of the buildings. I will ask about the kinds of machinery you have and use, tractors, etc., as well as fuel storage capacity on the farm. I will also ask you about your insurance level, so please mention what kind of insurance your farm has currently.
Forecasts for each season can greatly reduce losses and give you the time and space you will need to not only prepare, but to successfully navigate the great climate and weather changes that global cooling - now just on the horizon - will surely bring to a neighborhood and farm near you.
Forewarned is foretold.