Post by poitsplace on Feb 6, 2009 1:57:40 GMT I have no problem with your 1C total on doubling...and you can take that meaning both ways. I have no problem with the figure and I have no problem with the warming.
This has nothing to do with lines on a graph, it is simply that warming has effects that cause additional warming. For example warming causes ice to draw back and albedo reduces causing more warming. that's a positive feedback and so it amplifies any warming.
We've had the warming for 70 freaking years, we've had ice melt...temperatures seem perfectly able to drop again with the PDO and solar forcing. There's no evidence that this is happening
co2 increased 8% between 1940 and 1980
It increased 14% between 1980 and 2007
The logarithm of those increases shows that the warming from the co2 rise 1940 to 1980 should have been roughly half the warming from the rise 1980 to 2007.
Wrong numbers apparently. Smoothed numbers show an increase from about 307ppm in 1940 to about 337ppm in 1980, an increase of about 9.7%...then to a bit under 385 in 2007 (I'll give you the 14% on that one). It's a significant difference.
[/quote]We've had 0.8C over the 20th century, [/quote]
WOW, just...wow. Where to start? Ok, the starting point falls on a time of much lower solar activity, the bottom of the normal cooling cycle, and yet, overall (the period) was still considered to be coming out of the little ice age...oh and had a whole 12ppm increase in CO2. How is the 1900-1940 period REMOTELY relevant to anthropogenic global warming? Also, do you notice the ramp up from the bottom of that period is about the same as the 1980-2002 ramp? Shouldn't that be impossible? After all, if CO2 forcing MUST be necessary for such increases to occur now then it CAN'T be possible that it happened then.
BTW, going back to the previous, smoothed, warm period peak in 1880 the total warming comes out to....6C
and the breakdown in contributors is roughly as follows: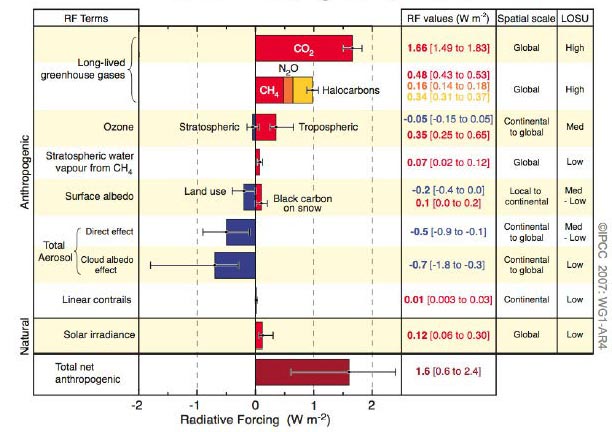 Yes. And even if we reduced fossil fuel emissions dramatically, that would remove the negative forcing from aerosols very quickly and so that would cause additional warming.
speculation...we still aren't completly sure of the affects of clouds, much less a thick soup of chemicals
I believe fossil fuels, more so coal, will remain the cheapest form of energy over the 21st century.
Riiiight, the high tech energy sources will stay the exact same cost for the next 50+ years. Never mind the fact that the costs of all of them have been dropping non-stop for all of their history. No, we should EXPECT that the cost/performance improvements we've seen for all of human civilization (increasing exponentially, I might add) to simply stop dead right now.
Once again you're stuck with the reality of the observed data...we have no evidence that there will be anything but CO2's expected (and not remotely dangerous) warming. Indeed, the last 70 years seems to indicate that's the most we'll get.