Post by magellan on Jun 10, 2012 5:48:55 GMT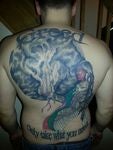 The U.K. debt to GDP is approaching 1000%!! If/when eyes are focused on the U.K., say bye bye.
flearider, the U.S. dollar is the world's reserve currency, not the Euro. Iran and Russia were going to dump the dollar, not because of any special love for the Euro. The Euro is dying because of.....Europe. Don't worry though, Obama said we should follow the European economic model, and that's what he's been doing with expediency.
The same will happen in the U.S. (already downgraded, first time in history) as in Europe unless extraordinary measures are taken to reign in runaway spending. Exiting as the reserve currency is not a pretty sight.
Keep in mind Europe is the U.S.' largest importer.
And Greece? Consider Greece imports its food, energy and medicine. If it leaves the Euro, it will become third world status in a few short months. Since the Greek population sucking off the public teet refuse to accept reality, their country is doomed.
The problem with Socialism is eventually you run out of other people's money.
reserve currency hmm not quiet the dollar was forced upon people to trade oil this is what the usa has built everything on ..
if this was to be taken away it would colapse .. the moneymen( Bilderberg Group,Rockefellerand the rest) know this and do everything in there power to stop it happening ..they pick the goverments to do what they need ..iran after building its off shore oil terminal said it wanted to trade in euros same with iraq ..iraq was taken care of iran being bigger they took another route .. uranium..
myself i look at the us as another germany your rights have been given away in the name of protection ... look at history to see whats next ..
but hey if ya want to keep going lets start another thread ..[/quote]
flearider, I may not know much, but history and how the monetary system works I know enough.
Europe is sinking under it's own weight. The Federal Reserve has been
pumping 15+ TRILLION DOLLARS propping up various banks around the world, including Europe. People think TARP, which Congress approved and Bush signed, was the only money spent on "saving" the banks. Ha!
Just the hint of QE3 drove stocks up this week. It is all monopoly money now; fiat currency. I know about Bilderbergs et al, no need to lecture, really.
Europe is hopeless. The U.S. is not far behind. Here, if you don't believe me about the U.K. debt, I found this at Zero Hedge, which I don't read often, but his number is 950%.
www.zerohedge.com/news/psssst-france-here-why-you-may-want-cool-it-britain-bashing-uks-950-debt-gdp
The U.S. rebuilt the world after WWII. If the U.S. were the Imperialist Colonizer people accuse us of, we could have controlled the world, literally. We held all the cards after the war, and had the Bomb. Who could have stopped the U.S.? Answer: nobody. The U.S. held the cards financially as well, and with that our economy boomed while at the same time the rebuilding of Europe and Japan occurred.
We have the Constitution. Now we need leaders who will follow it.
There is a reason why China is buying up gold, and why I did over 10 years ago. A collapse is coming to be sure, but the next one will be worse than the Great Depression (which was only called that in the U.S.) because of FDR.
reserve currency hmm not quiet the dollar was forced upon people to trade oil this is what the usa has built everything on ..
flearider, I don't know where you get your information from, but may I suggest first understanding what it means to have reserve status, and what caused GB to lose it. And BTW, oil is what has given Western Civilization it's standard of living unheard of in all of history. What's wrong with that? What is it about Europeans that bash the U.S. ?